Dr. Dan Synowicki, Jr. (New Life Chiropractic, LLC)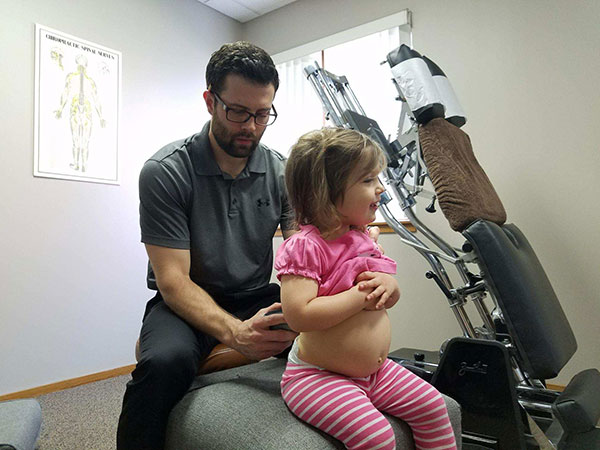 I have been a chiropractor since 2011 when I started my business New Life Chiropractic and have worked with Van Engen Chiropractic from the beginning. I grew up in Omaha, NE and was introduced to chiropractic care when I sustained a lower back injury while wrestling in high school. My parents brought me to their chiropractor and he had me back on my feet in no time and I was immediately hooked and knew that chiropractic care was what I was meant to do. I then attended Palmer College of Chiropractic in Davenport, IA where I graduated Summa Cum Laude and was class Valedictorian.
My experience out at Palmer was important because it showed me that chiropractic care was more than just treating back pain; instead it was about maintaining the health of my nervous system. Out there I learned about how intelligently we are designed and how intricate the nervous system is in maintaining EVERY bodily function. Keeping that system healthy is of vital importance, and pain is only a small part of the equation. Chiropractic care is truly about getting to the root cause of the issue; not just fixing symptoms.
I love what I am blessed to do in the office every single day. Not only do I get to help patients get out of pain, but I also help them maintain a properly functioning nervous system, which controls, coordinates, and keeps their body in proper working order. I work with people young and old, and love the variety that each patient's unique spine and circumstances brings me. The Gonstead method I practice truly allows me address each person's spine as an individual spine and not a "one size fits all" solution. My job also allows me to live out my faith in Jesus Christ, which gives me an avenue to minister to the physical needs of people, all while meeting them where they're at emotionally and mentally.
Outside of the office, my time is filled with my three beautiful daughters and my wonderful wife. We are very involved with our church Lincoln Berean where we help out with the Children's Ministry. We love to spend time outdoors hunting, fishing and hiking, all while making time to watch the Huskers and Cubs whenever we get the chance to.